About the 6th Form
Summer 2019: Outstanding results placing the school in the top 10% of schools nationally.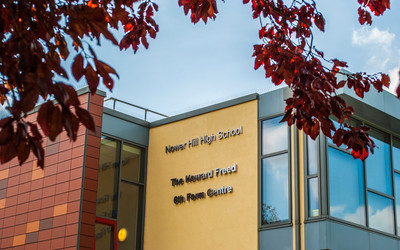 Nower Hill 6th Form is very high-achieving and we aspire to provide a world class education to our students. The key to our success in terms of academic achievement is having high standards and teachers that dedicate themselves to ensuring students achieve their goals. The students in the 6th Form are not only courteous, polite and well-mannered, but also extremely ambitious and we are keen to develop them to become the leaders of the future.
About Nower Hill 6th Form
Nower Hill 6th Form students value the outstanding advice and guidance given to ensure an effective transition both into 6th Form and onto Higher Education. We are very proud of our track record with exam success. Our dedicated, inspiring and supportive teachers are committed to enabling all students to achieve their full potential and this has led to our 6th Form being heavily oversubscribed. There is a bursary available to all 6th Form students who meet the financial eligibility criteria.
At Nower Hill we specialise in delivering A-Levels and offer 31 different A-Level subjects catering for the full range of interests and academic demands of our students. The vast range of subjects on offer on site at Nower Hill is one of the reasons why we are so popular. No other school within the Borough of Harrow offers a wider range of A-Level subjects. Ofsted rated the 6th Form as outstanding and stated: The curriculum provides an "extensive range" of 6th Form courses. As part of the Harrow 6th Form Collegiate, if a student wanted to study one of the few courses we don't offer, this could be taken as an away subject at another school within the Collegiate.
We have a large team of talented people dedicated to working exclusively in the 6th Form. The support students receive is excellent and we pride ourselves on looking after our students. Each member of the team has significant experience to pass on to the students and this means there is a lot of expert support available. The 6th Form Year Coordinators know the issues and common pitfalls that surround 6th Form study and the transition from GCSE to A-Level. They also know every one of their students and acquaint themselves with any circumstances relating to students in the 6th Form that might need special consideration. Mrs Murray is our school Careers Manager who works closely with the 6th Form and Mrs Podmore, Mrs Parkin and Ms Drew are our Study Supervisors. They are available for 6th Form students every morning and are able to provide mentoring throughout each day by organising 1:1 sessions during study periods to support those who most need/want our help to achieve the very best possible results. They assist students with managing their time effectively during supervised study and with organizing themselves well. In addition to this, each student is part of a form group containing a mixture of Year 12 and 13 students; we find the wisdom and experience passed on by Year 13 students to the Year 12s in form time prepares and supports Year 12 students on their 6th Form journey.
We are very proud of the 6th Form and the opportunities offered to students. Please see below for examples of the Enrichment Opportunities available in 6th Form.
Enrichment Opportunities
Extended Project Qualification
Aspire Programme (for students wanting to apply to Oxbridge and other similarly competitive courses)
Senior Student Leader posts
Mentoring
Young Enterprise
UCAT/BMAT preparation course (for students interested in medicine and dentistry)
Music and/or theatre productions
Sports
Volunteering
Debate Club
STEM Ambassador
University taster days and summer schools
National Citizen Service (NCS) The Challenge
Duke of Edinburgh Gold Award
Work Experience
Please take time to read what our students have said about Nower Hill in the prospectus – the most recurrent themes were the outstanding support given by teachers and how much they enjoy being part of the 6th Form here: