Keeping Children Safe In Education
Nower Hill High School will always adhere to the most up to date guidance to ensure the safety and wellbeing of our students. All of our relevant policies are updated accordingly to reflect annual updates to the Keeping Children Safe In Education (KCSIE).
Keeping Children Safe In Education 2021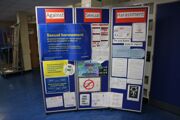 The Nower Hill community takes matters relating to child on child sexual violence and sexual harassment very seriously. The Student Voice Society has been instrumental in leading on a number of projects to ensure that all students are clear that we have a zero tolerance approach to such behaviours in school. They have also been involved in developing a students' guide to reporting incidents of bullying, peer on peer abuse or sexual harassment.
A Students' Guide to reporting incidents of bullying, peer on peer abuse or sexual harassment