Apply
Summer 2017: Outstanding results placing the school in the top 4% of schools nationally.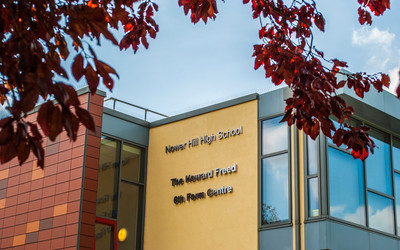 Nower Hill 6th Form is very popular with both Nower Hill students and those new to the 6th Form. The students value the outstanding advice and guidance given to ensure an effective transition both into 6th Form and onto Higher Education and we are very proud of our track record with exam success. Our dedicated, inspiring and supportive teachers are committed to enabling all students to achieve their full potential and this has led to our 6th Form being heavily oversubscribed. We welcome applications from students from all schools.
There is a bursary available to all 6th Form students who meet the financial eligibility criteria. It is important to note that for the majority of students, they must have been in receipt of free school meals by 31st August of Year 11 to qualify.
For September 2018 Entry: External Students
Applications for entry in September 2018 are now closed.
6th Form places may become available following GCSE Results Day. If you are an external student and would like to submit a late application to be considered for a place following GCSE Results Day, please complete and send in the external student application form with your predicted grades from your current school attached. The external student application form is available below.
If you are a student studying at a Collegiate school, you need to obtain a copy of the Collegiate application form from your current school, complete and hand in the form to your current school, who will then forward your application to us.
For September 2019 Entry
Nower Hill High School 6th Form Open Evenings 2018 (for September 2019 entry)
The 6th Form Open Evening for Nower Hill students will be on Thursday 11th October 2018, 6pm
The 6th Form Open Evening for students from other schools will be on Thursday 1st November 2018, 6pm