Student Leaders
Karishma – Head Girl

"Through my role on the Senior Student Leadership team I had many amazing opportunities to be involved in improving the 6th Form of Nower Hill. In the Senior Student Leadership Team, we helped ensure that 6th Form is an enjoyable time for all students here by organising social events, as well as putting forward our new ideas and those of other 6th Formers. Being Head Girl has taught me about leadership and team work and also helped me build on skills such as public speaking and organisation, which I know will become even more useful in the future. I have loved being able to represent the school and am very grateful for the invaluable experience I have gained."
Zachary – Senior Student Leadership Team

"We planned and ran socials, came up with solutions to issues within the 6th Form, such as long lunch queues and how to share the music in the common room, and finally we tried to make the common room a more sociable place by adding games such as table football. I enjoyed getting the chance to put forward both my peers and my own ideas for the 6th Form and actually seeing them being implemented."
One of the other features that makes our 6th Form outstanding is the way we develop our students as leaders, make sure their voice is heard and act on what they have to say. We feel that students are more engaged in the 6th Form if they feel involved in shaping it. Students can apply to be Head Boy and Girl, Deputy Head Boy and Girl, Heads of House, deputy Heads of House and other senior student leadership positions such running 6th Form events, charity fundraising, mentoring and organising clubs and societies. The Head of 6th Form meets with the senior student leaders every week to consult with them on a variety of matters concerning A-Level students, such as how we should best recognise student achievement in the 6th Form and how we might support students who are struggling. They enjoy and make the most of this increased autonomy.
Our 6th Form students want to make a difference in the world and our 6th Form has its own charity it supports every year. The senior student leaders play a big part in fundraising and coordinating form charity events. The charity St Marcellin's is in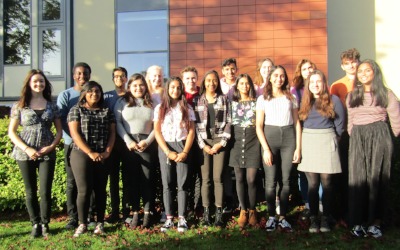 Zimbabwe and is home to orphaned and abandoned children. It receives no state funding and they are working towards self-sufficiency. Over the course of the year each tutor group organises activities and events to raise money such as charity football and bench ball tournaments, quizzes, raffles and Valentine chocolate delivery. It is great to have our own nominated charity where we know the money goes directly to the people who need it and we are very proud of difference we have made to the lives of the children in Zimbabwe.
Graeme – Bannister Head of House
"

I enjoyed the community of the Senior Student Leadership Team and enjoyed working together and solving problems with everyone to give back to the school."
Elica – Senior Student Leadership Team
"In general, I have become a lot more confident in how I portray myself and express my opinions in the weekly meetings. Components and key skills, like time management and being organised, were very significant this year and so it made me realise how valuable they are for the future as well."
Ishmael – Head Boy

"On the Senior Student Leadership Team, we worked on improving the experience of the 6th Form for the students, through the organisation of socials, events, the Graduation Ball and the end of year assembly. What I enjoyed was being in an environment which everyone involved wanted the best for the school and having the ability to raise ideas based on issues that have either been reported or noticed by Senior Student Leadership Team members and working together to rectify the problem."
John – Deputy Head Boy

"We received advice from our peers and liaised with the Nower Hill staff to ensure that Nower Hill is a positive learning environment. For example meeting with the catering company to discuss lunch options in the refectory. I greatly enjoyed my time being on the Senior Student Leadership Team. The opportunity to work with my peers and enhance the school to suit our needs is one that I really appreciated. I consider it an excellent experience that allowed me to develop my communication skills and ability to work in a team."
Imogen – Nightingale Head of House

"We took part in planning and leading social events at school including a DJ event one eventing in the Common Room and a 6th Form hide and seek game. We also led assemblies and charity events; these all allowed me to take on a leadership role and present myself as a role model for younger students. My favourite parts would have to be organising prom, preparing for the leavers assembly and forming new friendships with other members of the Senior Student Leadership Team and Heads of Houses. I have gained teamwork skills and extended my ability to manage time and stay organised. My time on the Senior Student Leadership Team has not only been beneficial but lots of fun!"
Riya – Gandhi Head of House

"Having been a member of the Senior Student Leadership Team for two years, I have been involved in the organisation of many events, including pizza and quiz nights and the hide-and-seek socials for 6th Form. Events we ran for the whole school included the annual House Choral and Science competitions. As a team, we have worked well together to raise money and have worked alongside teachers to create a great study environment at Nower Hill. This year I have thoroughly enjoyed organising the socials and have met other like-minded people. From debating over the colour theme for our Leavers Ball to coming together at dance rehearsals (even though many of us can't dance!) for our Leavers Assembly, I have made many friendships and I hope to keep in touch after I leave!"